Rattle And Hum
2 LPs
LP (Long Play)
Die gute alte Vinyl - Langspielplatte.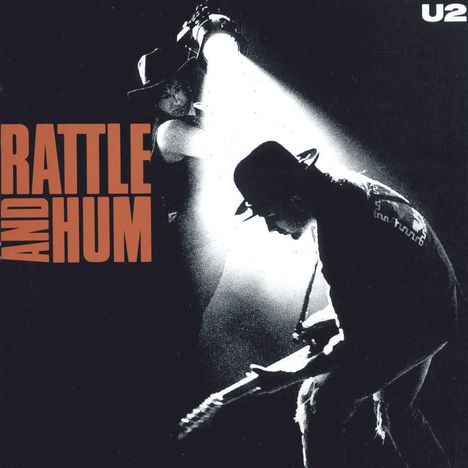 Derzeit nicht erhältlich.
Lassen Sie sich über unseren eCourier benachrichtigen, falls das Produkt bestellt werden kann.
Vinyl liefern wir innerhalb Deutschlands immer portofrei.
Weitere Ausgaben von Rattle And Hum
Rattle And Hum was released as a companion 2-LP set to the Phil Joanou-directed film of the same name. The album highlighted live performances from U2's successful 1987-88 Joshua Tree tour as well as additional songs recorded at Sun Studios in Memphis. A five-song CD known as Excerpts from Rattle and Hum was released in the UK in 1989. Three of the songs were live versions taken from the movie - Bad, In God's Country, and With Or Without You. The other two songs were the versions from the album - Hawkmoon 269 and God Part II. A limited edition CD was released in Mexico as part of the Serie Millennium with a different picture sleeve while a Colombian release of Rattle and Hum featured a different back cover. Stranger still, the New Zealand LP was mispressed as a black vinyl mixed with about 40% brown vinyl swirls.

The album reached No. 1 in the UK. In the US, it peaked at No. 1 on the album charts and No. 39 on the Billboard Top Pop Catalog Albums chart. It was certified as multi-platinum by the RIAA with 5 million units sold. In Switzerland, Rattle And Hum reached No. 1 on the album charts and stayed in the charts a total of 27 weeks and was certified Double Platinum. Rattle And Hum was voted Best Album by Rolling Stone readers and was nominated for a Grammy for Best Rock Group Performance. Production Credits Producer: Jimmy Iovine (U2.com)
Rezensionen
M.​ Gillig in HiFiVision 12/88:"Hier ist das Rock-Album des Jahres.​"
LP
1 Helter skelter
2 Van Dieman's land
3 Desire
4 Hawkmoon 269
5 All along the watchtower
6 I still havn't found
7 Freedom for my people
8 Silver and gold
9 Pride
10 Angel of Harlem
11 Love rescue me
12 When love comes to town
13 Heartland
14 God part II
15 Star spangled banner
16 Bullet in the sky
17 All I want is you