The Many Faces Of The Cure
The Many Faces Of The Cure
3 CDs
CD (Compact Disc)
Herkömmliche CD, die mit allen CD-Playern und Computerlaufwerken, aber auch mit den meisten SACD- oder Multiplayern abspielbar ist.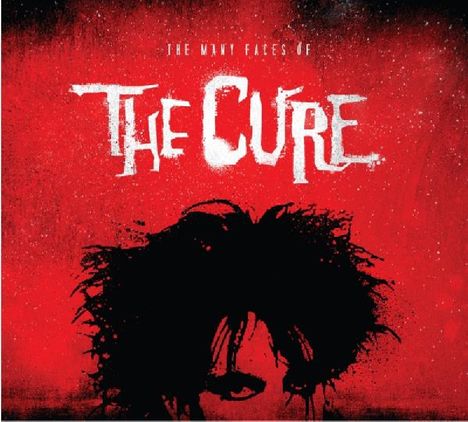 Derzeit nicht erhältlich.
Lassen Sie sich über unseren eCourier benachrichtigen, falls das Produkt bestellt werden kann.
*** Digipack
Ein neuer Blickwinkel
Seit fast 40 Jahren prägen The Cure bereits die Musiklandschaft. Sage und schreibe 13 Alben brachte ihre Karriere bislang hervor.

Wie facettenreich die Band und ihre Musik ist, zeigen sie 2016 außerdem mit dem Sampler »The Many Faces Of The Cure«. Auf insgesamt drei CDs im Digipak warten unbekannte Songs, Projekte der einzelnen Bandmitglieder, Liveversionen sowie Coversongs. Die meisten stammen aus der Zeit nach The Cure.

Mit dabei sind Gemeinschaftsarbeiten von Robert Smith mit anderen Künstlern sowie Songs von der Band Presence, die Michael Dempsey und Laurence Tolhurst nach ihrer Zeit bei The Cure gegründet hatten. Außerdem gibt es einige Songs von Fools Dance, zu deren Gründern Simon Gallup gehört. Weiterhin sind auf »The Many Faces Of The Cure« auch zwei Stücke des aktuellen The-Cure-Gitarristen Reeves Gabrels versammelt. Bei der zweiten CD des Samplers handelt es sich um Livemitschnitte von The Cure aus dem Jahr 2011, darunter Hits wie »Lovesong«, »Boys Don't Cry«, »Friday I'm In Love« und »In Between Days«.

Last but not least warten auf CD drei insgesamt 14 Coversongs. Künstler wie Joy Zipper, The Brunettes, The Submarines oder Elizabeth Harper & The Matinee nahmen sich einige der größten The-Cure-Klassiker zum Vorbild. Die Songs wurden für »The Many Faces Of The Cure« remastert. Die gesamte Trackliste finden Sie im Folgenden. Außerdem ist das 3-CDs-Set mit umfangreichen Linernotes ausgestattet.

Ein absolutes Muss für alle The-Cure-Fans. »The Many Faces Of The Cure« betrachtet die Band einmal aus einem völlig neuen Blickwinkel.
Disk 1 von 3 (CD)
1 The Many Faces Of The Cure: Da Hype / Junior Jack feat. Robert Smith
2 Never / Presence feat. Laurence Tolhurst
3 All I See / Presence feat. Laurence Tolhurst
4 Act Of Faith / Presence feat. Laurence Tolhurst
5 Fragments / Presence feat. Laurence Tolhurst
6 Happy Families Waiting (At The Skylab Landing Bay) / Fools Dance feat. Simon Gallup
7 They'll Never Know / Fools Dance feat. Porl Thompson
8 Sa'ha / Fools Dance feat. Simon Gallup
9 Empty Hours / Fools Dance feat. Simon Gallup
10 The Collector / Fools Dance feat. Simon Gallup
11 119 Years Ago / Reeves Gabrels
12 Thirteen / Reeves Gabrels
Disk 2 von 3 (CD)
1 The Cure Live 2011: Lovesong
2 Just Like Heaven
3 The Walk
4 Friday I'm In Love
5 In Between Days
6 A Forest
7 Lullaby
8 Boys Don't Cry
9 High
10 Push
11 Pictures Of You
12 The Caterpillar
13 Trust
14 Primary
Disk 3 von 3 (CD)
1 The Songs: Just Like Heaven / Joy Zipper
2 The Lovecats / Tanya Donelly & Dylan In The Movies
3 High / The Wedding Present
4 Friday I'm In Love / Dean & Britta
5 A Night Like This / Wayne Hussey
6 Catch / Devics
7 Lovesong / The Brunettes
8 In Between Days / Kitty Karlyle
9 Let's Go To Bed / Cassettes Won't Listen
10 Boys Don't Cry / The Submarines
11 Close To Me / Elk City
12 The Walk / The Rosebuds
13 Pictures Of You / Elizabeth Harper & The Matinee
14 A Night Like This / Julie Peel