The Clash: Sandinista! (remastered) (180g)
Sandinista! (remastered) (180g)
3 LPs
LP (Long Play)
Die gute alte Vinyl - Langspielplatte.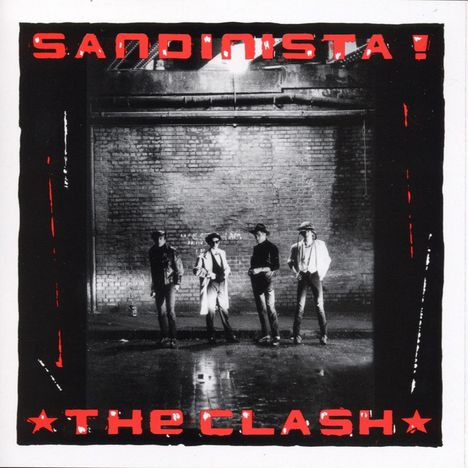 Artikel am Lager
Verlängerter Rückgabezeitraum bis 31. Januar 2024
Alle zur Rückgabe berechtigten Produkte, die zwischen dem 1. bis 31. Dezember 2023 gekauft wurden, können bis zum 31. Januar 2024 zurückgegeben werden.

Vinyl liefern wir innerhalb Deutschlands immer portofrei.
Label: Sony, 1980
Bestellnummer:

7534563

Erscheinungstermin: 29.9.2017
Weitere Ausgaben von Sandinista!
Das vierte Studioalbum der englischen Punkrock-Band, das ursprünglich im Dezember 1980 als Dreifach-Album mit 36 Titeln, davon 6 auf jeder Seite, erschien. Es nimmt den Weltmusik-Trend der 1980er Jahre vorweg und enthält Funk, Reggae, Jazz, Gospel, Rockabilly, Folk, Dub, Rhythm and Blues, Calypso, Disco und Rap. Enthält die Singles "The Call Up", "Hitsville UK" und "The Magnificent Seven".


Die Hörproben gehören zum Artikel The Clash: Sandinista! (CD). Das Tracklisting kann bei diesem Artikel ggf. abweichen.
LP
1 The Magnificent Seven
2 Hitsville U.K.
3 Junco Partner
4 Ivan Meets G.I. Joe
5 The Leader
6 Something About England
7 Rebel Waltz
8 Look Here
9 The Crooked Beat
10 Somebody Got Murdered
11 One More Time
12 One More Dub
LP
1 Lightning Strikes (Not Once But Twice)
2 Up In Heaven (Not Only Here)
3 Corner Soul
4 Let's Go Crazy
5 If Music Could Talk
6 The Sound of Sinners
7 Police On My Back
8 Midnight Log
9 The Equaliser
10 The Call Up
11 Washington Bullets
12 Broadway
LP
1 Lose This Skin
2 Charlie Don't Surf
3 Mensforth Hill
4 Junkie Slip
5 Kingston Advice
6 The Street Parade
7 Version City
8 Living In Fame
9 Silicone On Sapphire
10 Version Pardner
11 Career Opportunities
12 Shepherds Delight