Eagles Of Death Metal: I Love You All The Time: Live At The Olympia In Paris
I Love You All The Time: Live At The Olympia In Paris
2 CDs
CD (Compact Disc)
Herkömmliche CD, die mit allen CD-Playern und Computerlaufwerken, aber auch mit den meisten SACD- oder Multiplayern abspielbar ist.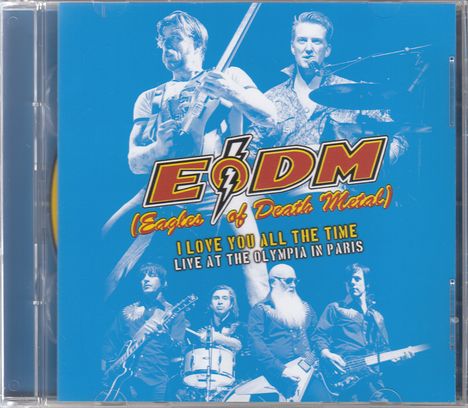 lieferbar innerhalb 1-2 Wochen
(soweit verfügbar beim Lieferanten)
Verlängerter Rückgabezeitraum bis 31. Januar 2023
Alle zur Rückgabe berechtigten Produkte, die zwischen dem 1. bis 31. Dezember 2022 gekauft wurden, können bis zum 31. Januar 2023 zurückgegeben werden.
Label: Eagle, 2016
Bestellnummer:

7370973

Erscheinungstermin: 19.8.2022
Weitere Ausgaben von I Love You All The Time: Live At The Olympia In Paris
Eagle Rock Entertainment veröffentlicht die DVD, Blu-ray, 2CD »I Love You All the Time - Live at The Olympia in Paris« von Eagles Of Death Metal. Auf der Setliste dieses extrem emotional aufgeladenen Auftritts standen Tracks wie »Complexity«, »Don't Speak (I Came To Make A Bang)«, »Cherry Cola«, das Duran Duran Cover »Save A Prayer«, »I Want You So Hard (Boy's Bad News)«, und natürlich viele weitere Kracher!

Während eines Eagles Of Death Metal Konzerts am 13. November 2015 im Pariser Club Bataclan hatten bewaffnete Männer das Gebäude betreten, das Feuer auf das Publikum eröffnet und 89 Menschen erschossen. Am 16. Februar 2016 kehrte die Band im Rahmen ihrer The Nos Amis Tour nach Paris zurück und vollendete den abgebrochenen Auftritt in der Olympia Hall. Diese Veröffentlichung macht die pure Emotion und Intensität dieser außergewöhnlichen Show spürbar und ist all jenen gewidmet, die im Bataclan ihr Leben verloren haben.


Disk 1 von 2 (CD)
1 I Only Want You
2 Don't Speak (I Came To Make A Bang!)
3 So Easy
4 Complexity
5 Whorehoppin' (Shit, Goddamn)
6 I Love You All The Time
7 Cherry Cola
8 The Reverend
9 Got A Woman
10 I Got A Feelin (Just Nineteen)
11 Stuck In The Metal
Disk 2 von 2 (CD)
1 Miss Alissa
2 I Like To Move In The Night
3 Secret Plans
4 Wannabe In L.A.
5 Bag O' Miracles
6 Save A Prayer
7 I Want You So Hard (Boy's Bad News)
8 Speaking In Tongues
Mehr von Eagle