Frank Zappa: Make A Jazz Noise Here
Make A Jazz Noise Here
2 CDs
CD (Compact Disc)
Herkömmliche CD, die mit allen CD-Playern und Computerlaufwerken, aber auch mit den meisten SACD- oder Multiplayern abspielbar ist.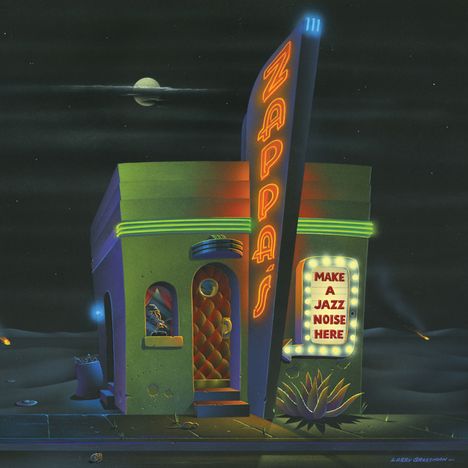 umgehend lieferbar, Bestand beim Lieferanten vorhanden
Label: Universal, 1988
Bestellnummer:

3083728

Erscheinungstermin: 6.11.2012
1992 veröffentlichte Zappa mit "Make A Jazz Noise Here" (nach "The Best Band You Never Heard In Your Life" und "Broadway The Hard Way") Teil 3 einer Trilogie mit Aufnahmen seiner 1988er-Welttournee. Überwiegend instrumental und ohne nachträgliche Overdubs treffen hier neue Live-Versionen von Zappa-Favoriten wie "King Kong" auf Premieren wie "Eat That Question".

Die "superbe Band" mit dem Gitarristen Mike Keneally (Solomon Burke), Bassist Scott Thunes (The Waterboys) und Drummer Chad Wackerman (Andy Summers) mit dem Perkussionisten Ed Mann, "lässt nichts anbrennen. Der Sound geriet für ein Live-Album fast schon zu knackig-clean." (Audio).
Disk 1 von 2 (CD)
1 Stinkfoot
2 When Yuppies Go To Hell
3 Fire And Chains
4 Let's make the water turn Black
5 Harry, you're a beast
6 The Orange County lumber truck
7 Oh no
8 Theme From Lumpy Gravy
9 Eat that question
10 Black napkins
11 Big Swifty
12 King Kong
13 Star Wars Won't Work
Disk 2 von 2 (CD)
1 The Black Page
2 T'Mershi Duween
3 Dupree's Paradise
4 City of tiny lites
5 Royal March From "L'Histoire Du Soldat"
6 Theme From The Bartok Piano Concerto #3
7 Sinister Footwear, 2nd Movement
8 Stevie's spanking
9 Alien orifice
10 Cruisin' For Burgers
11 Advance Romance
12 Strictly genteel