Franz Schubert: Winterreise D.911
Winterreise D.911
CD
CD (Compact Disc)
Conventional CD, playable with all CD players and computer drives, but also with most SACD or multiplayers.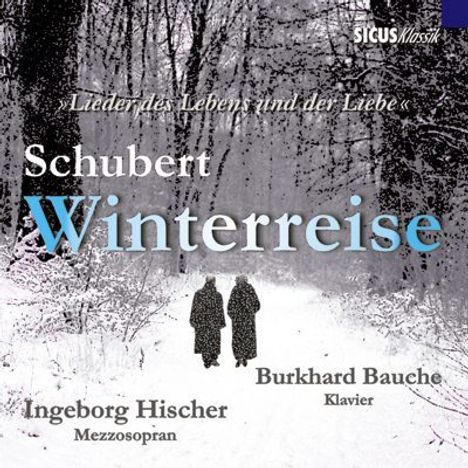 deliverable within one week (if available from supplier)
Extended return period until January 31, 2024
All products eligible for return that were purchased between December 1 and December 31, 2023, may be returned until January 31, 2024.
Artists: Ingeborg Hischer (Mezzosopran), Burkhard Bauche (Klavier)
Label: Sicus, DDD, 2014
Order number:

9106533

Release date: 5.4.2019
Lieder des Lebens und der Liebe" lautet der Titel der 1824 erschienenen Gedichtsammlung des Des­sauer Dichters und Hofrats Wilhelm Müller. Franz Schubert gründete auf diese Sammlung seinen 1828 als Opus 89 veröffentlichten Liederzyklus "Winterreise". Schon seine Festlegung "für eine Singstimme mit Begleitung des Pianoforte" lässt eine sowohl weibliche als auch männliche Sicht auf den Gehalt der Lieder zu. Es gibt aber bisher nur wenige Einspielungen dieses Zyklus durch eine Frauenstimme. SICUSKlassik präsentiert nun mit diesem Album eine Aufnahme der "Winterreise" unter der Überschrift "Lieder des Lebens und der Liebe" in der Interpretation durch einen Mezzosopran.
1

Track 1

2

Track 2

3

Track 3

4

Track 4

5

Track 5

6

Track 6

7

Track 7

8

Track 8

9

Track 9

10

Track 10

11

Track 11

12

Track 12

13

Track 13

14

Track 14

15

Track 15

16

Track 16

17

Track 17

18

Track 18

19

Track 19

20

Track 20

21

Track 21

22

Track 22

23

Track 23

24

Track 24