Evelyn Rothwell spielt Oboenkonzerte Vol.2
Evelyn Rothwell spielt Oboenkonzerte Vol.2
CD
CD (Compact Disc)
Herkömmliche CD, die mit allen CD-Playern und Computerlaufwerken, aber auch mit den meisten SACD- oder Multiplayern abspielbar ist.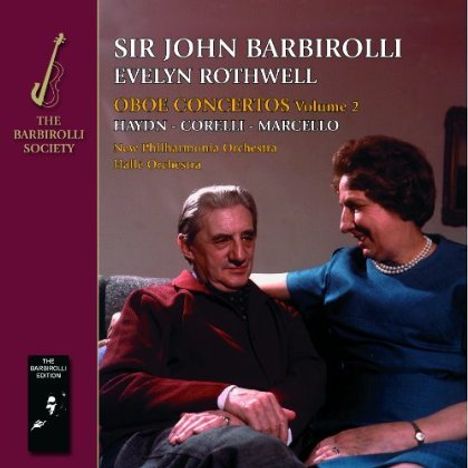 lieferbar innerhalb 1-2 Wochen
(soweit verfügbar beim Lieferanten)
Haydn: Oboenkonzert C-Dur H. 7g: C1
+Marcello: Oboenkonzert c-moll
+Corelli / Barbirolli: Oboenkonzert
+CPE Bach: Oboensonate g-moll
+Loeillet: Oboensonate C-Dur
+Händel: Air & Rondo
+Nicholas: Melody
+Telemann: Trio Es-Dur TWV 42: Es3 für Oboe, Cembalo, Bc
+Head: Siciliana für Oboe & Cembalo
Künstler: Evelyn Rothwell, Halle Orchestra, New Philharmonia Orchestra, John Barbirolli, John Morgan Nicholas
Label: Barbirolli Society, ADD, 1951-1969
Bestellnummer:

8578632

Erscheinungstermin: 26.7.2010
Lady Barbirolli's recorded performances, when heard on radio here and abroad, invariably strike a distinct and responsive chord with listeners. What a joy, therefore, that more of them exist in the archives to be made available through this second issue. The music of the Marcello and Corelli concerti will already be familiar to purchasers of Volume One, published by The Barbirolli Society (SJB1009), but the performances featured here are, of course, not the same: a decade separates them from the earlier ones. But as on that disc Miss Rothwell played to accompaniments conducted by her husband, Sir John Barbirolli [1899-1970], while the fact that they recorded the Marcello Concerto together twice and the Corelli three times – there was a 78rpm performance made in 1946 – speaks eloquently of the enduring musical worth and appeal among listeners of this musical partnership in these highly attractive pieces. As well as concertos, the CD also features Evelyn in chamber works. The Sonatas by Telemann and C P E Bach were based by Evelyn Rothwell and her harpsichordist friend Valda Aveling on manuscripts found in Copenhagen and at the Royal Conservatoire of Music in Brussels. The items originally recorded for HMV at the end of the 78rpm era recall another of Evelyn Rothwell's favourite musical collaborators, Wilfrid Parry. Their perform together in the charming Sonata by Jean-Baptiste Loeillet and the arrangement of Handel's Air and Rondo – a delectable little miniature. The moving Melody by Welsh composer and conductor, John Morgan Nicholas, was composed in memory of a daughter who died young. Another recital piece is the harpsichord-accompanied Siciliana by the English singer and songwriter Michael Head.
1

Track 1

2

Track 2

3

Track 3

4

Track 4

5

Track 5

6

Track 6

7

Track 7

8

Track 8

9

Track 9

10

Track 10

11

Track 11

12

Track 12

13

Track 13

14

Track 14

15

Track 15

16

Track 16

17

Track 17

18

Track 18

19

Track 19

20

Track 20

21

Track 21

22

Track 22

23

Track 23

24

Track 24

25

Track 25