Alexander S. Puschkin: Vystrel / The Shot (with free audio download link)
Vystrel / The Shot (with free audio download link)
Buch
Ilya Frank's Reading Method - Learning, refreshing and perfecting Russian by having fun reading
Übersetzung: Eleanor Crossley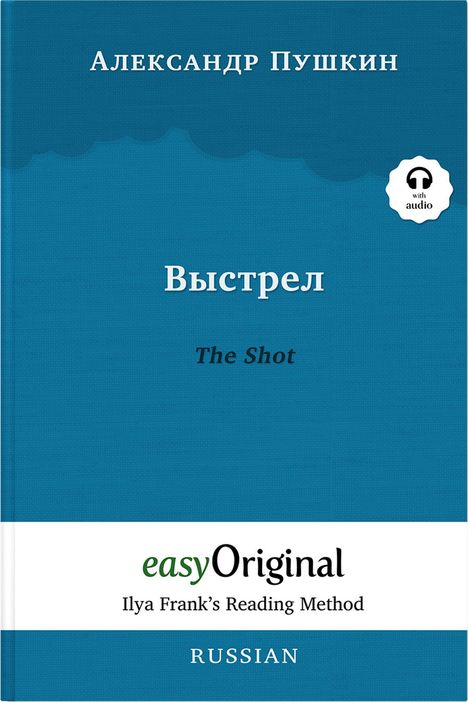 versandfertig innerhalb von 1-3 Tagen
(soweit verfügbar beim Lieferanten)
EasyOriginal Verlag e.U., 03/2022
Einband: Kartoniert / Broschiert
Sprache: Englisch, Russisch
ISBN-13:

9783991123484

Bestellnummer: 10859957
Umfang: 92 Seiten
Gewicht: 162 g
Maße: 207 x 145 mm
Stärke: 6 mm
Erscheinungstermin: 1.3.2022

Achtung: Artikel ist nicht in deutscher Sprache!
Klappentext
Reading sample: https://easyoriginal. com / sample / ER5.pdf
Innovative Reading Method: https://easyoriginal. com / en / reading-method/
"The Shot" (¿¿¿¿¿¿¿) is a short story by Aleksandr Pushkin. It is the first story in Pushkin's "The Tales of the Late Ivan Petrovich Belkin", a cycle of five short stories.
The Shot details events at a military outpost in a Russian province, and then several years later, on a country estate. Pushkin discusses themes of honor, revenge and death, and places them within the broader context of Russian society. The Shot tells the story of a retired soldier named Silvio, who harbors a grudge for many years following an argument in which he was disrespected in front of his peers. Told from the perspective of an unnamed narrator, the story concludes with Silvio returning to seek his revenge against the man who wronged him, the Count.
Alexander Sergeyevich Pushkin was a Russian poet, playwright, and novelist of the Romantic era. He is considered by many to be the greatest Russian poet and the founder of modern Russian literature.
Unabridged original text. Bilingual book Russian-English.
Fun with reading original versions, starting as a beginner from level A2 and people re-entering the learning process.
Innovative Ilya Frank's Reading Method.
Learning, refreshing and perfecting foreign languages by having fun reading.
Efficient and effortless expansion of vocabulary thanks to the innovative reading method.
It takes no effort to read the original version and no dictionary is required to understand every word precisely. In passing, you learn vocabulary and repeat / improve grammar.
Thanks to the integrated audio books, listening comprehension is also trained.
Biografie (Alexander S. Puschkin)
Alexander Sergejewitsch Puschkin wurde 1799 als Spross eines alten Adelsgeschlechts in Moskau geboren. Wegen seiner politischen Lyrik wurde der dichtende Graf, der im Außenministerium eine Stelle innehatte, 1820 nach Südrussland strafversetzt, später verbannt auf das mütterliche Gut. Er starb 1837 an den Folgen eines Duells.
Anmerkungen:
Bitte beachten Sie, dass auch wir der Preisbindung unterliegen und kurzfristige Preiserhöhungen oder -senkungen an Sie weitergeben müssen.