Vision & Revision: The First 80 Years Of Topic Records
Vision & Revision: The First 80 Years Of Topic Records
2 CDs
CD (Compact Disc)
Herkömmliche CD, die mit allen CD-Playern und Computerlaufwerken, aber auch mit den meisten SACD- oder Multiplayern abspielbar ist.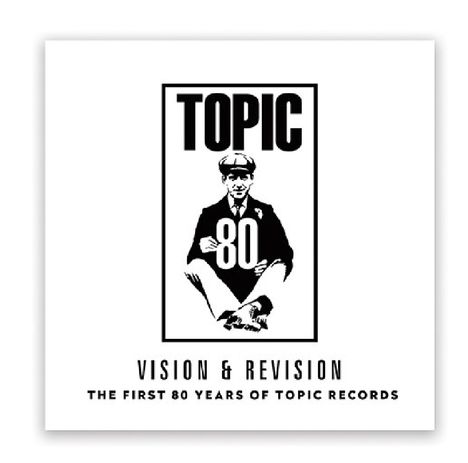 Lieferzeit beträgt mind. 4 Wochen
(soweit verfügbar beim Lieferanten)
Label: Topic
Bestellnummer:

9010340

Erscheinungstermin: 31.5.2019
Weitere Ausgaben von Vision & Revision: The First 80 Years Of Topic Records
*** Digisleeve
Wegweisende Veröffentlichung von Topic Records, dem ältesten unabhängigen Plattenlabel der Welt, das in diesem Jahr sein 80-jähriges Bestehen feiert: Vision & Revision Das Who is Who des British Folk interpretiert je einen Song aus dem umfangreichen Topic-Backkatalog auf eigene, unwiderstehliche Art und Weise

2019 feiert Topic Records seinen 80. Geburtstag. Im Rahmen der Feierlichkeiten veröffentlicht das Label das herausragende Album Vision & Revision. Die besten britischen Folkmusiker interpretieren darauf einen selbst ausgewählten Song aus dem 80 Musik-Jahre umfassenden Labelkatalog. Vision & Revision enthält nie zuvor veröffentlichte Tracks von Martin Simpson, Richard Thompson, Peggy Seeger, Peggy Seeger, John Lee, Sam Lee, Martin Carthy, Olivia Chaney, Lisa O'Neill, Oysterband, Nancy Kerr, Chris Wood, Josie Clarke und Ben Walker, sowie Lisa Knapp, Kitty Macfarlane, Sam Kelly und The Lost Boys, Emily Portman und Rob Harbron, Rachael McShane & The Cartographers, Eliza Carthy & Olivia Chaney und The Oldham Tinkers.


Disk 1 von 2 (CD)
1 Martin Simpson: Beaulampkin
2 Peggy Seeger: Jack Frost
3 John Smith: She Moves Through The Fair
4 Josienne Clarke & Ben Walker: The Banks Of The Sweet Primroses
5 Oysterband: Seven Gypsies
6 Nancy Kerr: Searching For Lambs
7 Sam Lee: The Deserter
8 Kitty Macfarlane: Go Your Way
9 Lisa O'Neill: As I Roved Out
10 Chris Wood: Fable Of The Wings
Disk 2 von 2 (CD)
1 The Oldham Tinkers: Dirty Old Town
2 Rachael McShane & The Cartographers: Workers' Song
3 Richard Thompson: The Light Bob's Lassie
4 Olivia Chaney: Polly Vaughan
5 Martin Carthy: Napoleon's Dream
6 Lisa Knapp: I Wish My Love Was a Cherry
7 Sam Kelly & The Lost Boys: Shawnee Town
8 Emily Portman & Rob Harbron: Bay Of Biscay
9 Eliza Carthy & Olivia Chaney: Nancy Of Yarmouth
10 Lankum: The Sea Captain