The Beach Boys: 1967: Sunshine Tomorrow
Meilensteine
In Deutschland gibt es Farbfernsehen, Elvis heiratet Priscilla, der Zeichentrickfilm »Das Dschungelbuch« feiert Premiere und die Beatles veröffentlichen »St. Pepper« – das Jahr, das wir suchen, ist 1967.

Auch für die kalifornischen Surf-Rock-Legenden The Beach Boys ist 1967 ein ganz besonderes Jahr, das sie jetzt mit »1967 – Sunshine Tomorrow« noch einmal genauer betrachten.
1967: Sunshine Tomorrow
2 CDs
CD (Compact Disc)
Herkömmliche CD, die mit allen CD-Playern und Computerlaufwerken, aber auch mit den meisten SACD- oder Multiplayern abspielbar ist.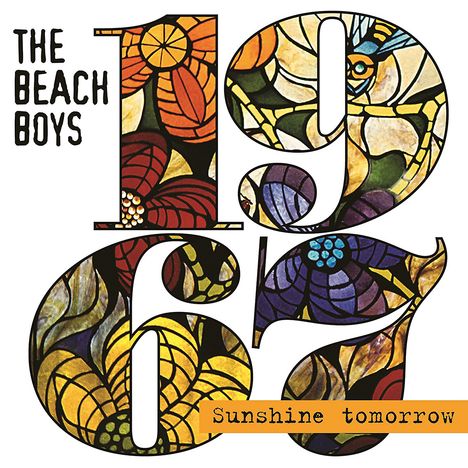 lieferbar innerhalb 1-2 Wochen
(soweit verfügbar beim Lieferanten)
Label: Capitol
Bestellnummer:

7269813

Erscheinungstermin: 30.6.2017
Weitere Ausgaben von 1967: Sunshine Tomorrow
*** digitally remastered
Das Beach-Boys-Jahr 1967
2017 veröffentlichen die Beach Boys mit »1967 – Sunshine Tomorrow« eine ganz besondere Sammlung von Raritäten, und zwar auf zwei randvollen CDs.
Auf der ersten CD wartet unter anderem ein neuer Stereomix von »Wild Honey«. Das 13. Studioalbum der Beach Boys erschien ursprünglich am 18. Dezember 1967 und brachte Hits wie »Darlin'«, »Here Comes The Night« oder den Titeltrack »Wild Honey« hervor. Es landete auf Platz sieben der UK-Charts, in Deutschland auf der 20 und in den USA auf Platz 24.
Zusätzlich zum Album warten auf der ersten CD von »1967 – Sunshine Tomorrow« noch 20 unveröffentlichte Outtakes aus den Aufnahmesessions.
Die zweite CD widmet sich vor allem »Smiley Smile«, und zwar mit zehn bislang unveröffentlichten Outtakes und alternativen Mixes. Das Album war ebenfalls 1967, nur drei Monate vor »Wild Honey«, erschienen.
Last but not least befinden sich auf Disc zwei noch das Livealbum »Lei'd In Hawaii« sowie weitere rare Live- und Studioaufnahmen.
Das gesamte Tracklisting von »1967 – Sunshine Tomorrow« finden Sie im Folgenden.
Ein umfassender Blick auf das Beach-Boys-Jahr 1967 mit vielen nie gehörten Stücken. Hier ist »1967 – Sunshine Tomorrow«.
PS: Den neuen Stereomix von »Wild Honey« auf Vinyl gibt es
hier
.
Rezensionen
»Erstmals erscheinen hier auch zwei Livemitschnitte, einmal fünf Stücke aus dem August 1967 – mit Brian Wilson an der Orgel – in Hawaii, einmal fünf Songs aus Washington D.​C.​ und Boston, aufgenommen auf der 1967er Thanksgiving-Tour.​ Und letztendlich auch noch die unveröffentlichten kompletten Aufnahmen aus dem September 1967, die die Beach Boys (mit Brian Wilson) als Overdubs für ihr geplantes und nie erschienenes Live-Album Lie'd In Hawaii verwenden wollten.​« (Good Times, August/September 2017)
Disk 1 von 2 (CD)
1 STEREO:Wild Honey
2 Aren't You Glad
3 I Was Made To Love Her
4 Country Air
5 A Thing Or Two
6 Darlin'
7 I'd Love Just Once To See You
8 Here Comes The Night
9 Let The Wind Blow
10 How She Boogalooed It
11 Mama Says
12 WILD HONEY SESSIONS :Lonely Days (Alternate Version)
13 Cool, Cool, Water (Alternate Version)
14 Time To Get Alone (Alternate Version)
15 Can't Wait Too Long (Alternate Version)
16 I'd Love Just Once To See You (Alternate Version)
17 I Was Made To Love Her (Vocal Insert Session)
18 I Was Made To Love Her (Long Version)
19 Hide Go Seek (Backing Track Master Take - Instrumental)
20 Honey Get Home (Backing Track Master Take - Instrumental)
21 Wild Honey (Session Highlights Instrumental)
22 Aren't You Glad (Session Highlights Instrumental)
23 A Thing Or Two (Track And Backing Vocals)
24 Darlin' (Session Highlights Instrumental)
25 Let The Wind Blow (Session Highlights Instrumental)
26 WILD HONEY LIVE:Wild Honey (Detroit )
27 Country Air (Detroit )
28 Darlin' (Pittsburgh )
29 How She Boogalooed It (Detroit )
30 Aren't You Glad (Live 1970)
31 Mama Says (Session Highlights)
Disk 2 von 2 (CD)
1 SMILEY SMILE SESSIONS:Heroes And Villains (Single Version Backing Track)
2 Vegetables (Long Version)
3 Fall Breaks And Back To Winter (Alternate Mix)
4 Wind Chimes (Alternate Tag Section)
5 Wonderful (Backing Track Instrumental)
6 With Me Tonight (Alternate Version With Session Intro)
7 Little Pad (Backing Track Instrumental)
8 All Day All Night (Whistle In) (Alternate Version 1)
9 All Day All Night (Whistle In) (Alternate Version 2)
10 Untitled (Redwood) (Instrumental)
11 LEI'D IN HAWAII LIVE:Fred Vail Intro
12 The Letter (Alternate Mono Mix)
13 You're So Good To Me
14 Help Me, Rhonda (Mono Mix)
15 California Girls (Mono Mix)
16 Surfer Girl (Mono Mix)
17 Sloop John B
18 With A Little Help From My Friends (Mono Mix)
19 Their Hearts Were Full Of Spring (Mono Mix)
20 God Only Knows (Mono Mix)
21 Good Vibrations
22 Game Of Love (Outtake)
23 The Letter (Alternate Stereo Mix)
24 With A Little Help From My Friends (Stereo Mix)
25 Hawthorne Boulevard
26 Surfin'
27 Gettin' Hungry
28 Hawaii (Rehearsal Take)
29 Heroes And Villains (Rehearsal Take)
30 THANKSGIVING TOUR:California Girls (Washington, D.C. )
31 Graduation Day (Washington, D.C.)
32 I Get Around (Boston)
33 Surf's Up (Version)
34 Surfer Girl (A Cappella Mix)