Rush: A Farewell To Kings (40th Anniversary) (180g) (Deluxe Edition)
A Farewell To Kings (40th Anniversary) (180g) (Deluxe Edition)
4 LPs
LP (Long Play)
Die gute alte Vinyl - Langspielplatte.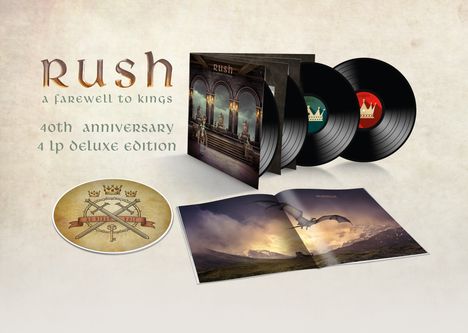 Derzeit nicht erhältlich.
Lassen Sie sich über unseren eCourier benachrichtigen, falls das Produkt bestellt werden kann.
Vinyl liefern wir innerhalb Deutschlands immer portofrei.
Label: Universal, 1977/78
Erscheinungstermin: 1.12.2017
Weitere Ausgaben von A Farewell To Kings
* DMM - Direct Metal Mastering
+ 32-seitiges Booklet
*** Gatefold Cover
Rush, die kanadische Kultband feiert das 40. Jubiläum ihres legendären Albums »A Farewell to Kings« mit der Veröffentlichung großartiger Extended Reissues.

Auch die 4LP Version enthält die 12"-Turntable-Matte, sowie Symes Artwork und Bowmans Begleittext.
Die Hörproben gehören zum Artikel Rush: A Farewell To Kings (40th Anniversary) (Deluxe Editon) (CD). Das Tracklisting kann bei diesem Artikel ggf. abweichen.
LP
1 A Farewell To Kings
2 Xanadu
3 Closer To The Heart
4 Cinderella Man
5 Madrigal
6 Cygnus X-1 (Book One - The Voyage)
LP
1 Bastille Day (Live Hammersmith Odeon, London/February 20, 1978)
2 Lakeside Park (Live Hammersmith Odeon, London/February 20, 1978)
3 By-Tor & The Snowdog (Live Hammersmith Odeon, London/February 20, 1978)
4 Xanadu (Live Hammersmith Odeon, London/February 20, 1978)
5 A Farewell To Kings (Live Hammersmith Odeon, London/February 20, 1978)
6 Something For Nothing (Live Hammersmith Odeon, London/February 20, 1978)
LP
1 Cygnus X-1 (Live Hammersmith Odeon, London/February 20, 1978)
2 Anthem (Live Hammersmith Odeon, London/February 20, 1978)
3 Closer To The Heart (Live Hammersmith Odeon, London/February 20, 1978)
4 2112 (Live Hammersmith Odeon, London/February 20, 1978)
LP
1 Working Man (Live At Hammersmith Odeon, London/February 20, 1978)
2 Fly By Night (Live At Hammersmith Odeon, London/February 20, 1978)
3 In The Mood (Live At Hammersmith Odeon, London/February 20, 1978)
4 Drum Solo (Live At Hammersmith Odeon, London/February 20, 1978)
5 Cinderella Man (Live At Hammersmith Odeon, London/February 20, 1978)
6 Xanadu
7 Closer To The Heart
8 Cinderella Man
9 Madrigal
10 Cygnus X-2 Eh