Revolution Saints: Light In The Dark (Limited Boxset)
Light In The Dark (Limited Boxset)
1 CD, 1 DVD, 1 LP, 1 T-Shirt
CD (Compact Disc)
Herkömmliche CD, die mit allen CD-Playern und Computerlaufwerken, aber auch mit den meisten SACD- oder Multiplayern abspielbar ist.
DVD
Die meisten angebotenen DVDs haben den Regionalcode 2 für Europa und das Bildformat PAL. Wir bieten aber auch Veröffentlichungen aus den USA an, die im NTSC-Format und mit dem Ländercode 1 auf den Markt kommen. Dies ist dann in unseren Artikeldetails angegeben.
LP (Long Play)
Die gute alte Vinyl - Langspielplatte.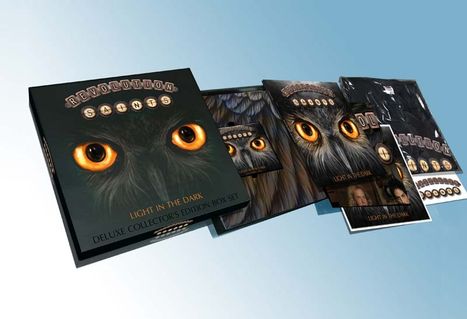 lieferbar innerhalb 1-2 Wochen
(soweit verfügbar beim Lieferanten)
Vinyl liefern wir innerhalb Deutschlands immer portofrei.
Label: Frontiers, 2017
Bestellnummer:

7533805

Erscheinungstermin: 12.10.2017
Weitere Ausgaben von Light In The Dark
100% Baumwolle / Markenqualität / waschbar
Product Information

Deen Castronovo, Jack Blades and Doug Aldrich: REVOLUTION SAINTS. After the release of their selftitled debut album in 2015, many naysayers boldly, and quite foolishly, predicted that it would be a one-off project that would never go anywhere and that it wasn't worth listeners' time. But internet trolls and knownothing blowhards are never as sharp as the music listening public, who relied on their smarts and their hearts to simply enjoy the music and kept the faith that Revolution Saints would be back. And now those fans are about to be rewarded with THE melodic rock record of the year, and quite possibly, the decade!

With one album already under their belt, the core line-up entered the studio to record the new album more familiar with one another and a clear understanding of where they wanted this to go. Superbly handling drums and lead vocals once again is Deen Castronovo (ex-Journey, Bad English). As with the first album, his superb vocal talents are in the spotlight on this release and deservedly so. Pretty impressive for a man who is most widely known for his incredible drumming talents. Jack Blades really needs no introduction at this point, but for those who have been living under a rock, Jack's bass and vocal talents are well documented over the years through his work with Night Ranger, Damn Yankees, Shaw/Blades, and more. It should come as no surprise to hear that he is on fire on this record. Once again on guitar, Doug Aldrich (Burning Rain, ex-Whitesnake, ex-DIO) was excited to bring not only his six-string talents to this album, but also his songwriting abilities.

The record builds off the classic melodic rock style of the debut, but fans should prepare for a somehow even more inspired set and a few (pleasant) surprises. Inspiring, uplifting, emotionally powerful, and thoughtful, this album WILL be the soundtrack to many a moment in your life.

Shirt: Gr. L, plus Poster und Sticker
Die Hörproben gehören zum Artikel Revolution Saints: Light In The Dark (Limited Edition) (CD). Das Tracklisting kann bei diesem Artikel ggf. abweichen.
Disk 1 von 3 (CD)
1 Light In The Dark
2 Freedom
3 Ride On
4 I Wouldn't Change A Thing
5 Don't Surrender
6 Take You Down
7 The Storm Inside
8 Can't Run Away From Love
9 Running On The Edge
10 Another Chance
11 Falling Apart
12 BONUS TRACKS:Back On My Trail (Live)
13 Turn Back Time (Live)
14 Here Forever (Live)
15 Locked Out Of Paradise (Live)
Disk 2 von 3 (DVD)
1 Back On My Trail (Live)
2 Turn Back Time (Live)
3 Here Forever (Live)
4 Locked Out Of Paradise (Live)
5 Light In The Dark (Video)
6 I Wouldn't Change A Thing (Video)
7 Making Of Light In The Dark
Disk 3 von 3 (LP)
1 Light In The Dark
2 Freedom
3 Ride On
4 I Wouldn't Change A Thing
5 Don't Surrender
6 Take You Down
7 The Storm Inside
8 Can't Run Away From Love
9 Running On The Edge
10 Another Chance
11 Falling Apart