Hank Williams: I Saw The Light (180g)
I Saw The Light (180g)
LP
LP (Long Play)
Die gute alte Vinyl - Langspielplatte.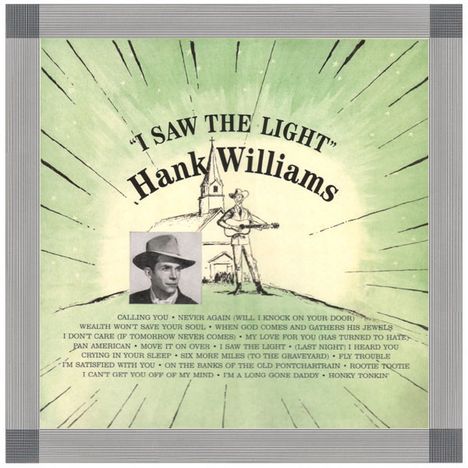 Nur noch 1 Stück am Lager. Danach versandfertig mind. 4 Wochen (soweit verfügbar beim Lieferanten)
Vinyl liefern wir innerhalb Deutschlands immer portofrei.
Label: DOL, 1946-47
Bestellnummer:

3940929

Erscheinungstermin: 1.12.2021
Once in a great while a truly superlative musical talent comes along, it only happens a handful of times per century, and one of those times "it" was Hank Williams. Despite his swift and total rise to super stardom by the age 25, by 29 he was dead in the back of his own Cadillac...but it is what happened in the meantime that made all the difference. While America, returning victorious from the War in 1945, attempted to create an image of a invincibility, wealth and power in the face of its citizens and the world, there was a boy with a guitar from a place called "Wrong Side of the Tracks", Alabama, who had another story to tell, a story that, amid all the propaganda and ticker tape parades, Americans could relate to and, judging from the record sales, obviously wanted to hear, and from 1946 to 1951 Hank Williams recorded enough hits to last country music stations for the following fifty. He dominated the country music charts throughout this period (with 11 number 1 songs and many more in the top ten), and songs like "Cold Cold Heart", "Hey Good Lookin'", and "Your Cheatin' Heart, have become standards in American music.
LP
1 Calling you
2 Never again (will i knock on your door)
3 Wealth won't save your soul
4 When god comes and gathers his jewels
5 I don't care (if tomorrow never comes)
6 My love for you (has turned to hate)
7 Pan american
8 Move it on over
9 I saw the light
10 (last night) i heard you crying in your sleep
11 Six more miles (to the graveyard)
12 Fly trouble
13 I'm satisfied with you
14 On the banks of the old pontchartrain
15 Rootie tootie
16 I can't get you off of my mind
17 I'm a long gone daddy
18 Honky tonkin