Consolidated: We're Already There
We're Already There
2 LPs
LP (Long Play)
Die gute alte Vinyl - Langspielplatte.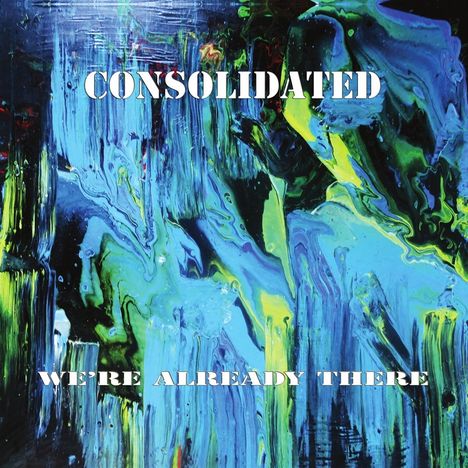 Nur noch 1 Stück am Lager. Danach versandfertig innerhalb 2-3 Wochen (soweit verfügbar beim Lieferanten)
-11%
Vinyl liefern wir innerhalb Deutschlands immer portofrei.
Weitere Ausgaben von We're Already There
Product Information

Consolidated, the political dance/industrial music band from the early 90ties joined again for a studio session in San Francisco last summer, resulting in a new album. 'We're Already There'. The first release on Consolidated's own label 'The End Of Records'. What else to expect, the new recordings are an innovating mix of industrial, to hip-hop, to rock and funk with mixtures of live instruments and electronics.

Topped with left political activism and politically radical lyrics address issues such as America, Covid and ecocide with song The Flood, demand *'Free Music, Stop America'* with Musica Sin Frontieras & welcome guest vocalist GRETA THUNBERG on the track The 'ol Mass Extinction Blues. The album starts in 'traditional Consolidatedgroove' with the song 'Capitalism A.F.', a mix of beats, industrial sounds and hiphop. Followed by funkypop songs, danceable industrial jams, techno beats, reggae and blues influences plus a remarkable noise track. Main musicians are Adam Sherburne (guitar/vocals) and Mark Pistel (synths/beats) backed by Lynn Farmer (Meat Beat Manifesto) on drums, who replaces the original drummer Phil Steir.

The complete album is recorded, mixed and mastered by Mark Pistel at 'Room 5' in San Francisco. The cover shows art paintings from Ayelet Hay (front) and William Kendall (back). On 'We're Already There' Consolidated plays more music than ever. "I have zero interest in being in a band, especially my own_" "I had to develop a different way to be involved with music for aesthetic and mental health reasons_" "FREE MUSIC! is not to the detriment of artists, it's literally the end of artists-as anyone perceives them in the last 500 years" -Adam Sherburne - Consolidated are known for their live performances, in which a microphone is passed among audience members to discuss, rebut, argue or elaborate on song topics. Consolidated: Adam Sherburne & Mark Pistel.


LP
1 Capitalism A.F.
2 The Flood
3 2 Minutes 2 Midnight
4 Riffin On Jimi
5 De-Escalate And Dialogue Now!
6 Music Is The Sound Of Life
7 Internationalism, Mutual Aid, Weed
8 Lamenting Autotuned Life
9 Musica Sin Fronteras
LP
1 Noise Dancer
2 Who Controls The Past
3 The Ol' Mass Extinction Blues
4 Robot Flamenco Shit
5 The Chickens Are Coming Home
6 The Machine
7 From Civilization To Barbarism