Jelly Roll Morton: The Essential Collectio
The Essential Collectio
2 CDs
CD (Compact Disc)
Herkömmliche CD, die mit allen CD-Playern und Computerlaufwerken, aber auch mit den meisten SACD- oder Multiplayern abspielbar ist.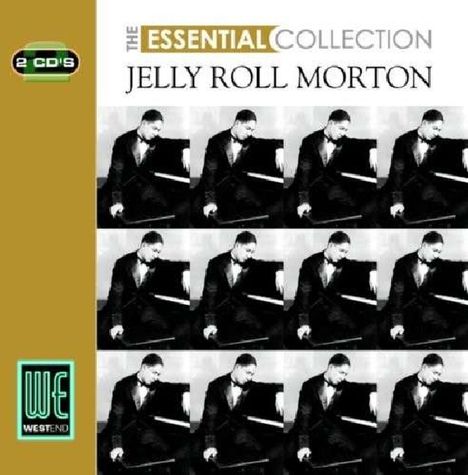 lieferbar innerhalb einer Woche
(soweit verfügbar beim Lieferanten)
Label: Avid
Bestellnummer:

6727154

Erscheinungstermin: 16.10.2006
+ His Red Hot Peppers u.a.
A strange mixture of genius, musician poet, snob and braggart, so our latest inductee into the Essential Collection was described by legendary record producer George Avakian.

Jelly Roll Morton or Ferdinand as his mother no doubt preferred to call him was born around 1890 in the home of jazz, New Orleans. He was learning his craft from a young age in bars and brothels but it wasn't until 1926 that he secured a recording contract with the Victor Recording Company.

During a highly fertile and creative four year period he went on to record many of his most loved compositions, many of which are of course featured here!

We conclude with six cuts from 1939-1940 when he started to record again after a quiet period.
Disk 1 von 2 (CD)
1 London blues
2 Soap suds
3 Black bottom stomp
4 Smoke-house blues
5 The chant
6 Sidewalk blues
7 Dead man blues
8 Steamboat stomp
9 Grandpa's spells
10 Original jelly roll blues
11 Doctor jazz
12 Cannon ball blues
13 Hyena stomp
14 Billy Goat stomp
15 Wild man blues
16 Jungle blues
17 Beale street blues
18 The pearls
19 Midnight mama
20 Mr. Jelly Lord
21 Georgia swing
22 Kansas City stomps
23 Shoe Shiner's drag
24 Boogaboo
Disk 2 von 2 (CD)
1 Shreveport
2 Mournful serenade
3 Deep creek
4 Seattle hunch
5 Freakish
6 Burnin' the iceberg
7 Courthouse bump
8 Pretty Lil
9 Sweet Aneta Mine
10 New Orleans Bump
11 Sweet Peter
12 Jersey Joe
13 Mississippi Mildred
14 Mint julep
15 Smilin' the blues away
16 Turtle Twist
17 Fussy Mabel
18 Ponchatrain
19 Low Gravy
20 Blue blood blues
21 Climax rag
22 Don't you leave me here
23 West and blues
24 Ballin' the Jack
25 Sweet substitute
26 Panama