Richard Koechli: Music and Transcendence - Story of a Dream Team
Music and Transcendence - Story of a Dream Team
Buch
The mystery of sounds, from Antiquity to Psychedelic Rock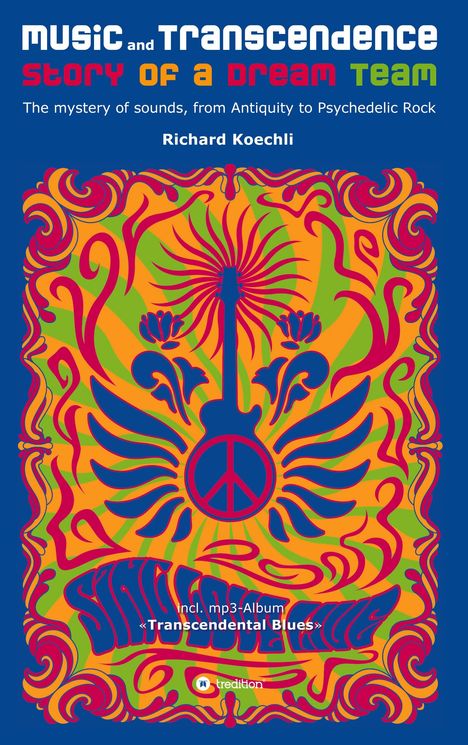 lieferbar innerhalb 2-3 Wochen
(soweit verfügbar beim Lieferanten)
Verlängerter Rückgabezeitraum bis 31. Januar 2024
Alle zur Rückgabe berechtigten Produkte, die zwischen dem 1. bis 31. Dezember 2023 gekauft wurden, können bis zum 31. Januar 2024 zurückgegeben werden.
tredition, 05/2023
Einband: Gebunden, HC gerader Rücken kaschiert
Sprache: Englisch
ISBN-13:

9783347928374

Bestellnummer: 11502066
Umfang: 200 Seiten
Gewicht: 405 g
Maße: 221 x 140 mm
Stärke: 17 mm
Erscheinungstermin: 19.5.2023

Achtung: Artikel ist nicht in deutscher Sprache!
Weitere Ausgaben von Music and Transcendence - Story of a Dream Team
Klappentext
Music exhilarates, enchants, fires, liberates, calms, comforts, heals. Like hardly any other medium, it lets us take off into a world beyond time and space. How does that work? What is the mystery of sound? There are theories, suppositions and hunches from the most diverse fields, but in no epoch has it been possible to lift the veil definitively.

Tenaciously, playfully and at times ironically, Swiss musician and book author Richard Koechli searches for answers as to how and why music touches us and, in the sense of transcendence, even takes us beyond ourselves. What processes are going on there, in the brain and in the soul? How has all this influenced the history of humanity? Meticulously, Koechli examines explanations from musicology, natural science, psychology, music therapy, sociology, literature, philosophy, mysticism, spirituality and metaphysics. He passionately quotes legendary stars as they experience the magic. Worried, he also asks why, since time immemorial, the «drug» of music is often not enough for us, why we believe we can top the high with some substance or occult practice. Last but not least, Richard Koechli ends the 200-page book with a fascinating foray through the history of «Psychedelic Rock», because it was this music from the hippie era that taught him how to take off. And in his role as a multiple award-winning blues musician and singer-songwriter, he complements it all with a very personal album: «Transcendental Blues» (download link in the book), a complex musical trip through the ups and downs of being human.

For anyone involved in music in any way. A relevant book because it multiplies respect for the mystery of sounds. A stirring one, because it takes the love for music to infinity.
Anmerkungen:
Bitte beachten Sie, dass auch wir der Preisbindung unterliegen und kurzfristige Preiserhöhungen oder -senkungen an Sie weitergeben müssen.