Alessandra Aloisi: The Power of Distraction: Diversion and Reverie from Montaigne to Proust
The Power of Distraction: Diversion and Reverie from Montaigne to Proust
Buch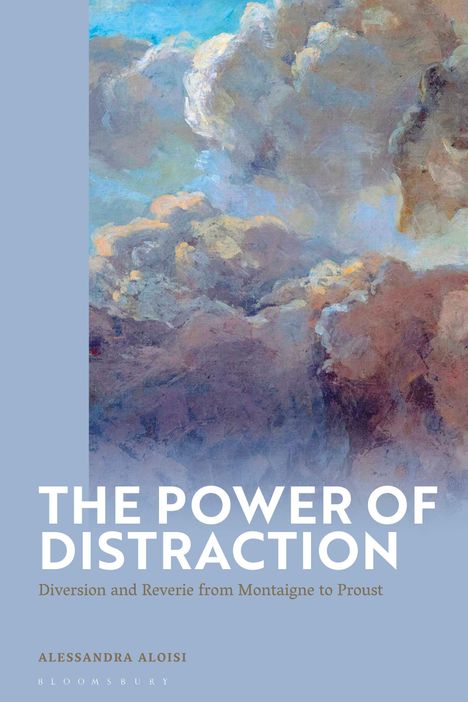 Artikel noch nicht erschienen, voraussichtlicher Liefertermin ist der 5.10.2023.
Sie können den Titel schon jetzt bestellen. Versand an Sie erfolgt gleich nach Verfügbarkeit.
BLOOMSBURY ACADEMIC, 10/2023
Einband: Gebunden
Sprache: Englisch
ISBN-13:

9781350342941

Bestellnummer: 11425581
Umfang: 208 Seiten
Gewicht: 454 g
Maße: 216 x 138 mm
Stärke: 25 mm
Erscheinungstermin: 5.10.2023

Achtung: Artikel ist nicht in deutscher Sprache!
Klappentext
From reducing screen time to the Pomodoro Technique, we're constantly being advised to avoid distraction if we want to live and work better. But Alessandra Aloisi argues we're missing the point. Drawing on a broad range of European philosophy and literature, this book considers distraction not as an expression of human imperfection, but as a creative, subversive and aesthetic capability.

In contrast to the historic understandings of distraction, from monastic manuals to Robert Burton's The Anatomy of Melancholy, in which he describes distraction as a symptom of misery, Aloisi argues that it is often precisely when we lose focus that inspiration finds us. Why else are artists described as having their heads in the clouds? This book demonstrates the serendipity of distraction through creative case studies ranging from Delacroix and Manet to the Netflix show, Black Mirror.

With inspiration from Stendhal, Baudelaire, Rousseau and others, Aloisi further examines the political value of distraction. After all, in an age of 24 / 7 availability and technology fighting for our attention, distraction provides what Bergson called a 'slight revolt' from the codes and behaviours that society dictates.

Combining philosophy, literature, art and politics, The Power of Distraction urges us to think differently about our attention span and consider just how productive daydreams can be.