Gift vouchers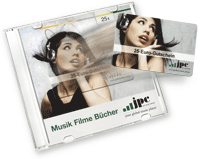 Music is the nicest gift ...
... but tastes in music vary. With a gift voucher from jpc, you can´t go far wrong. Regardless of whether this is for a birthday, raffle, competition, or a corporate gift - a jpc gift voucher is a great idea for every occasion.
You receive the jpc gift voucher in a genuine CD case via jpc mail order, where it can also be redeemed. And to ensure that the lucky recipient of the gift voucher can also choose a CD, a DVD, a Blu-ray Disc or a book immediately, a jpc-courier fresh from the press is included with the delivery.